Industry Trends
Africa Molecular Diagnostics Market Share was valued at USD 363.1 million in 2019 and is expected to witness 13.2% CAGR from 2020 to 2026.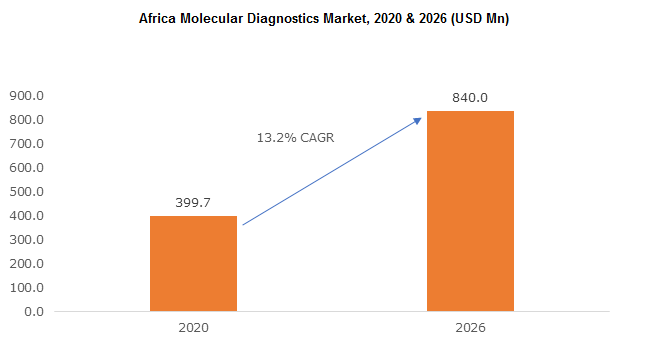 Get more details on this report - Request Free Sample PDF

Molecular diagnostics market players are focusing on acquisitions, investment, partnership, and product launch to create a strong foothold in the molecular diagnostics market. For instance, to advance healthcare and medical science in Africa, Qiagen partnered with The Scientific Group to expand its commercial presence in Africa, in August 2018. This initiative benefited the continent with its increasing need for modern molecular diagnostic technologies in the life sciences and healthcare sectors. The company also participates in the national screening programs to combat the health crisis from tuberculosis infection (TB) and detection of human papillomavirus (HPV). In February 2020, Roche announced to build a biotech production facility and laboratory in Cape Town, South Africa, to expand its product offerings in Africa. Similarly, various non-government and government organizations are also taking various initiatives to strengthen the healthcare system, thereby fostering the market potential for molecular diagnostics.

Africa Market, By Application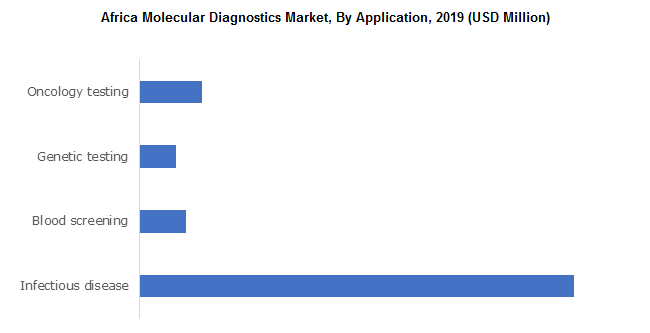 Get more details on this report - Request Free Sample PDF

Based on application, the molecular diagnostics market is segmented into infectious disease, genetic testing, blood screening and oncology testing. Infectious disease is further segmented into flu, tuberculosis, HIV, meningitis, Hepatitis B, hepatitis C, dengue, H. pylori, STD, RSV virus, HPV and TORCH. Infectious disease segment accounted for more than USD 270 million revenue size in 2019, owing to increasing incidence of infectious diseases along with rising awareness regarding early disease diagnosis and treatment. Some of the countries with highest burden of infectious diseases are from Africa region due to surging incidence of tuberculosis, meningitis and STD thereby, enhancing the segmental growth. Moreover, availability of rapid molecular tests delivering test results in a few hours for effective patient management will act as a positive aspect for industry expansion.

Africa Market, By Technology
On the basis of technology, the molecular diagnostics market is fragmented into chips and microarrays, mass spectrometry, PCR, in-situ hybridization, isothermal amplification, sequencing and others. In-situ hybridization segment captured around 9.5% market share in 2019. Increasing usage of in-situ hybridization in research activities and laboratories to diagnose cancer, infectious diseases and other chromosomal abnormalities will substantially contribute towards business growth. Fluorescence in-situ hybridization (FISH) and comparative genomic hybridization (CGH) are effective methods in detecting huge genetic variations including deletions, aneuploidy, pregnancy loss and congenital abnormalities. Hence, various such factors prove beneficial for the market expansion.

Africa Market, By Country
The South Africa market held more than 11% CAGR. Increasing geriatric population base along with rising incidence of infectious diseases will boost the country growth. Also, growing awareness regarding infectious diseases and diagnosis and surging adoption regarding point-of-care molecular diagnostics secures the market demand. Increasing efforts undertaken by government to raise awareness regarding treatment for infectious disease will favour the industry expansion. For instance, The Infectious Disease Society of Southern Africa aims to support physicians and healthcare workers in the field of infectious disease.

Competitive Market Share
Some of the prominent players operating in market are Abbott Laboratories, Becton, Dickinson and Company, BioMérieux, Agilent Technologies (Dako), Bio-Rad Laboratories, Bio-Techne, Danaher, F. Hoffmann-La Roche, Johnson & Johnson, Qiagen, Myriad Genetics, and Siemens Healthcare, Thermo Fisher Scientific among others. The business players are adopting several strategies such as investments, expansion and innovations to expand their customer base. For instance, in February 2020, Bio-Rad Laboratories announced the acquisition of Exact Diagnostics a biotech startup. This acquisition assisted the company in expanding its presence in molecular diagnostics industry.

Industry Background
In 1949, Pauling along with his colleagues introduced the term molecular disease in the medical vocabulary. Molecular diagnostic technology is a major field of science wherein the interacting properties of biomolecules are connected for diagnostic purpose. This technology has extensive range of applications including molecular detection of inherited diseases, gene mutations detection and identification of pathogens, prediction of chromosomal structure and chromosomal mutations. Also, analysis and characterization of nucleic acids and proteins, resolution and detection of nucleic acids, DNA-based tissue typing to molecular oncology, quality assurance and quality control in the molecular laboratories, and several others. This is expected to create a lucrative market growth opportunity in near future for molecular diagnostics industry.